By Sarah Beagley

TIM BALL – 150 GAMES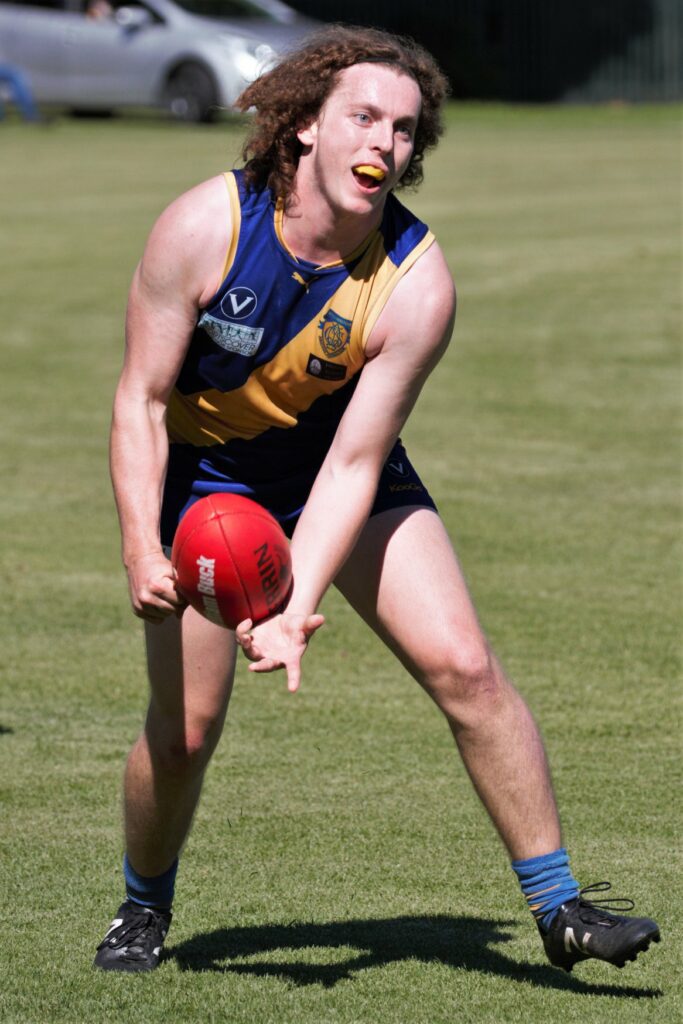 "A man who loves an audience, whether it's on the sideline telling a story or on the field, eyes and ears are naturally drawn to him. On his big day I suspect he will have it on a string. I also suspect we may hear about it at some point too." – Sam Callard, teammate.

A self-proclaimed "Roamer. Floater. Utility" for the club, it's hard to imagine a CY's family without T-Ball in it. For the last decade, Tim has provided us with a dependable and galvanising presence across the midfield, forward, back (and clubroom bar) lines, and this Saturday he will run out for the 150th time in the blue and gold.

It's a story of "persistence despite crushing blow after crushing blow", Tim jokes about his 150 game CY's career, which has seen him play everywhere across the ground for the under 19s, Seniors, Reserves and Thirds sides.

Tim first joined the CYs in 2012 to play alongside his mates, and has never looked back. "It's a family, isn't it? There are blokes here I've only played one or two games with this year who already feel like great mates. We get along so well and it makes me feel so welcome. I'm proud to represent it".

Tim has enjoyed the opportunity to play most of his games alongside good mates James Neylon, Jack Gialamatzis, Ryan Danaher, Jack Connolly and Mason Lindner. However, he saved the biggest shout out for previous coach Cam Oates; "Oatter is not just a coach but a good mate, someone I have heaps of respect for. I could go to him for anything and get really good advice".

Tim's debut was maybe one to forget in his otherwise impressive CY's journey, with his unders side going down by about 140 points to St Bernard's on a cold and wet Saturday morning. However, despite only two wins in his first season, there was a string of memorable matches and moments Tim remembers fondly. For instance, "In our second-last game, our big fella Bill McCray lept up goal keeper-style to stop the ball on the line and we won by a point, on the siren. It was an all time moment".

Tim is looking forward to the Ressies becoming more familiar and comfortable with each other this season as they navigate the highs and lows of a new and developing cohort of players. We wish him all the best for this impressive milestone game and for the rest of his season!
MASON LINDNER – 100 GAMES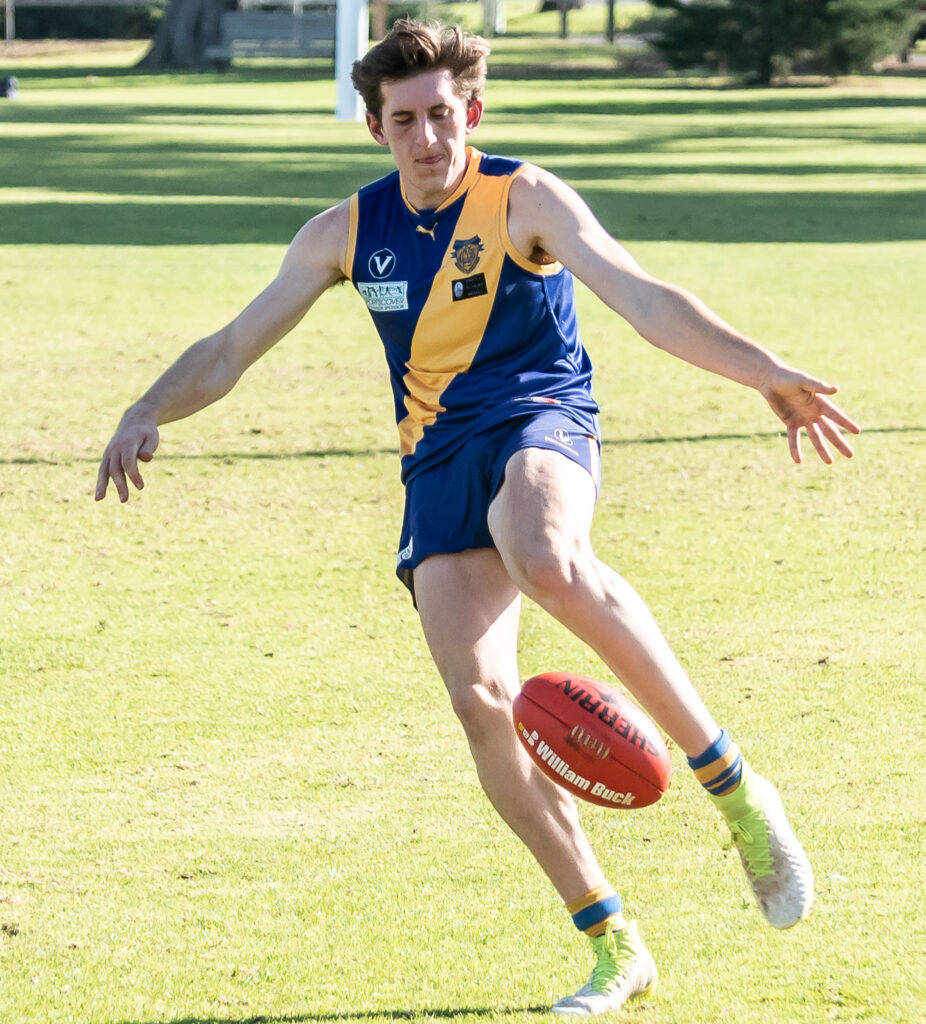 "Mason is a determined centre-halfback with a booming left boot in his locker. Fast and athletic, Mayo has been a reliable teammate from his days in the Unders program through to now being a senior member of the Reserves side. Those who play down back walk taller with Mayo around them and are often found looking for him when we need a long kick to clear the lines. A loud personality, Mayo brings just as much to the team off the field as he does on it. Congratulations on 100 games!" – Harry Carter, teammate.

After an impressive 8 seasons as a dominant centre halfback, Mason "Mayo" Lindner will join a string of CY's legends this weekend as a 100 game player for the club.

Mason started at the CY's in 2015, playing for three years in the under 19s program under current seniors coach Con Terzoglu, before becoming an invaluable part of the current Reserves side.

Mason's first game saw him secure a memorable win over Peninsula in the pouring rain, with his team slogging out a scrappy but determined effort away. Since then, Mason has played in two finals campaigns in the unders program, winning the best and fairest in his first season with CY's in 2015. He also played with the Reserves in the 2018 finals series and was a part of the winning qualifying final team against Old Ivanhoe in 2019.

For Mason, joining the CY's was a natural progression from his years in the Williamstown Juniors competition, where he moved through the pathway with a strong group of mates coming along for the ride. He has since played most CY's games alongside teammates Tim Ball, Jack Van Wyngaarden and James Slevison; and under premiership Reserves coach Cam Oats. "The culture is really good, that's why I've stayed", Mason explains of his 8 years as a CYs player, "I just really like everyone here".

Mason joined T Ball in giving the biggest shout out for his 100 game CY's career to coach Cam Oats, as well as Benny MacColl, who were huge parts of Mason's development into playing senior footy. "I just couldn't be where I am without them", he said.
Tim and Mason will be celebrating their milestone games this Saturday against Old Haileybury at 11:40am at the Fearon Reserve. Make sure you get down there to give these CY's legends a massive blue and gold army celebration for their incredible achievements. Congratulations Tim and Mason!