BY Fin Adamson
Life membership is the highest honour awarded to club players, staff, directors, and volunteers. Life Members are inducted via nomination by the club committee, before being endorsed by current life-members.
We would like to congratulate Matthew Montebello on his recent nomination and induction as a Life Member of the club, recognising his contribution over 11 years. Monty has been integral in creating a high performance culture based on the core values of commitment, unity and respect.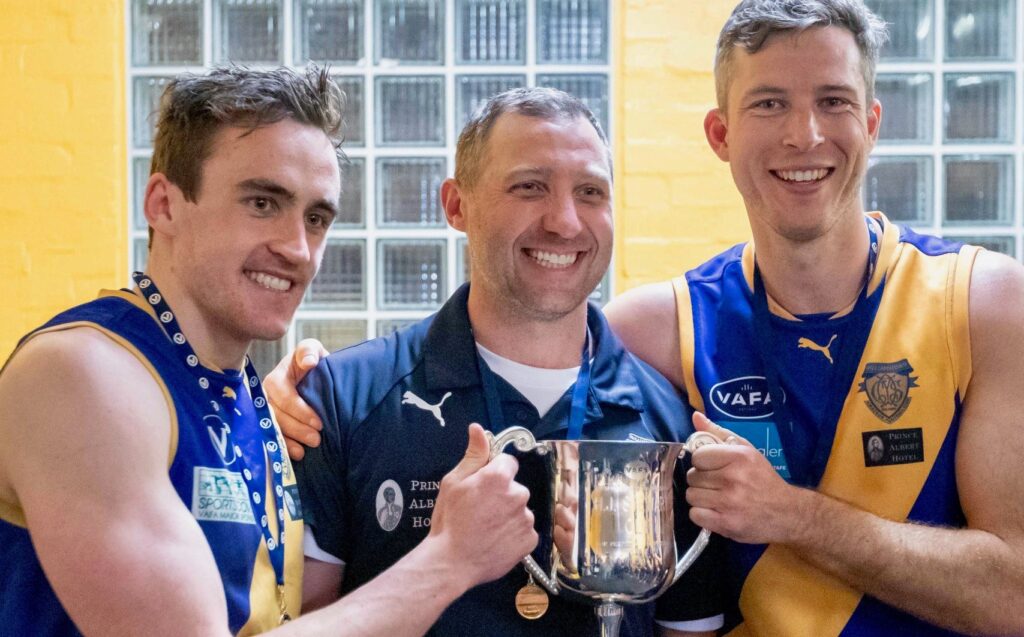 Monty first joined the club in 2011 following a successful playing career at Spotswood Football Club and Williamstown Football Club in the VFL. Initially, he took the reins of our newly formed Under 18's team as it moved from competing in the WRFL to the VAFA. After establishing a successful Unders' program, Mat was appointed the dual role of Senior Men's Coach and Director of Coaching as we competed in 2013. Competing in Division 1, his focus on development from within meant our programs saw constant improvement each season. Finishing as runners up that year, Monty led the squad to a premiership season in 2014.
This trend continued as we then built our credentials as a Premier C grade team, each season incrementally proving our worth. His ability to drive constant improvement saw us work our way up the ladder, continuing to develop quality footballers and people.
The straight-sets finals exit in 2018, both losses by under a goal, set the scene for the 2019 campaign. In what will be known as a legendary CY's campaign, Monty guided our Senior Men's team to an undefeated premiership season, advancing the club into B Grade for the first time in our history. This incredible season saw Mat awarded the 2019 VAFA Premier Men's coach of the Year.
Monty loves a quote, so we've scoured the internet to find one suitable for the legacy he leaves at our football club. Thankyou Monty.
"To leave the world a bit better… to know that even one life has breathed easier because you have lived — that is to have succeeded."

Ralph Waldo Emerson